Vor 40 Jahren – ich war wohl gerade zehn Jahre alt – waren mein Bruder und ich bei meiner Schwester (damals schon 19 Jahre alt) zu einer gemütlichen Fahrt mit einem Mann eingeladen, der ein Auge auf sie geworfen hatte. Er war der Chef eines Autohandels und wir fuhren an diesem Tag in einem wunderschönen roten Cabrio. Wir fühlten uns richtig cool! Jahre später gestand unsere Schwester uns den Grund für diesen Ausflug: Sie schätzte den Mann zwar als sehr nett ein, doch ihr gefiel die Idee nicht, dass er irgendetwas versuchen könnte, ganz abgesehen davon, sie in der Enge des Wagens zu berühren. Es war diese Erinnerung die mir wieder einfiel, als ich mit meinem Gruppenpartner Floris ein Interview beendete, das wir für Project Cape Town letzte Woche geführt hatten. Der Gedanke an eine "dritte Partei" um "Ärger zu vermeiden".
Wir wollten wissen, wo die Kosten hinflossen, die Ehrenamtliche für ihr Arrangement zahlten. Der Beschluss stand fest, wir würden so lange fragen, bis wir zum Kern der Sache vorgedrungen waren. Wir suchten und fanden Ehrenamtliche des teuersten Volunteering Unternehmens und darüber hinaus einem der größten Player im Voluntourism-Markt von ganz Südafrika.
Wir waren gut vorbereitet. Unser Mittel um an den Kern der Sache zu gelangen: Ein Tortendiagramm. Sehr viele Organisationen benutzen diesen visuellen Trick um Transparenz zu simulieren, doch es bleibt was es ist: Ein Trick.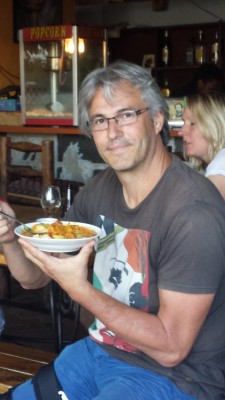 "40% gehen an die Unterkünfte und die Versorgung, 30% in das Projekt, 25% an das Management und die Organisation und die übrigen 5% sind Spenden für das Projekt!", erklärt eine Organisation anhand ihres Tortendiagramms. Doch in einem anderen Kreisdiagramm wurden die Kategorien komplett anders verteilt: "70% Organisationskosten." Was beinhaltet diese Zahl, was schließt sie aus?
Die einzige Sache, die diese unterschiedlichen Diagramme gemeinsam haben, ist ihr psychologisches Ziel: Die Organisation oder Firma als vertrauenswürdig darzustellen. Doch was passiert, wenn du das Geld, das du bezahlt hast, anhand der angegebenen Prozentangaben aufteilst – kommen dir die Zahlen dann immer noch angemessen vor? Außerdem wollten wir den Ehrenamtlichen subtil Fragen über das fehlende Stück des Kuchens stellen: Den Gewinn!
Doch wir, mutige Journalisten die wir waren, hatten mit einer Sache nicht gerechnet: Die Chefin der Organisation gesellte sich gerne zu uns. "Ich hoffe, Sie haben kein Problem damit, wenn ich während des Interviews bei meinen Mädchen bleibe?" Das war Michelle. Ich erwähnte sie in einem meiner früheren Artikel. Vor fünf Jahren hat sie selbst als Ehrenamtliche gestartet und jetzt leitet sie das "Hostel" der Organisation. Sie ist der perfekte Botschafter: Absolut überzeugt von der Mission des Unternehmens und höchstwahrscheinlich vollkommen unwissend über dessen Profit.
Die ehrenamtlichen Helfer, drei junge Mädchen aus Australien, Kanada und den Niederlanden, hatten nicht das leiseste Interesse daran, unserem Weg durch die Aufteilung der Tortendiagramm-Stücke zu folgen. "Wir mögen keine Tortendiagramme, das ist zu 08/15." Michelle nickte zustimmend mit einem Lächeln auf den Lippen.
Tatsächlich war es auch Michelle, die uns aufklärte und zugleich für ihre Mädchen antwortete: "Für uns zählt die Qualität der Organisation, nicht das Geld. Wir sind überzeugt von dem Guten, das wir tun und (es tut mir sehr leid, dass ich das so sagen muss, aber) es ist nicht so wichtig, dass es mehr kostet als das Projekt des nächstbesten Kerls."
Plötzlich waren wir nicht mehr so mutig, unfähig die Konversation mit unseren scharfen Fragen aufrecht zu erhalten. Sie wollten nicht dabei mitmachen, die einzelnen Tortenstücke zu zerteilen. Frustriert verließen wir das Schlachtfeld, davon überzeugt, dass alles ganz anders gelaufen wäre, wenn Michelle nicht anwesend gewesen wäre. Zu Recht rieben sich unsere Kollegen an uns auf: Warum nutzten wir nicht unsere Kraft als Journalisten und fuhren fort Fragen zu stellen? Wir schulden ihnen noch immer eine Antwort. Wir sind nicht die mutigen Journalisten, nicht ein kleines Stück.
Volunteer Correct, Project Cape Town: Bold journalists
Forty years ago – I must have been ten years old – my brother and I were invited to join my sister (already 19 years old) on a leisurely ride, together with a man who was quite obviously after her. He was the boss of a car dealership and we rode that day in a beautiful red convertible. How cool we felt that day! Years later my sister confessed why we were taken along: she thought the man was nice enough, but didn't like the idea of him making a pass, let alone touch her in the confines of the car. It is this memory that came back to me when my group member Floris and I finished an interview that we carried out for Project Cape Town last week. It was the memory of having a 'third party' present to 'avert danger'.
We wanted to know where the costs that volunteers pay for their arrangement really went. And we had decided we would really keep asking questions and get to the bottom of it! We had scouted out volunteers of the most expensive volunteer company we could find, and above all, one of the biggest players in the South African voluntourism market.
We were well prepared. Our instrument with which to cut to the heart of it: the pie chart. Often an organisation uses this visual trick to seem transparent towards volunteers, but it's just that: a trick.
"40% goes to room and board, 30% goes to the project, 25% goes to the management and organization and the remaining 5% area project donation!", states one organisation in their pie chart. But in another pie chart, the categories are divided completely different: "70% organisational costs." What does that include and exclude?
The only thing that the different pie charts share is their psychological aim: make the company or organization seems trustworthy. But what if you start dividing the money you have paid towards the percentages mentioned, do those amounts still seem reasonable? And of course we we would subtly like to ask the volunteers about the missing piece of the pie: the profits!
But we, bold journalists that we are, had not counted on one thing: the boss of the volunteers happily joined us. "I hope you don't mind me staying with my girls during the interview?" That was Michelle. I mentioned her here before in my previous post. Five years ago she had started as volunteer, and now she runs the organization's 'hostel'. She's the perfect ambassador: an absolute believer in the company's mission, and probably unaware about the amount of profit for the company.
The volunteers, three young girls from Australia, Canada and the Netherlands, had not the slightest intent to follow us down the path of the partition of the pies: "We don't like pie charts, we think it's too cookie-cutter." Michelle intently nodded agreement, a smile on her face.
It was Michelle who eventually explained it to us, representing her girls: "For us it is about the quality of the project and not about the money. We're convinced about the good we do and (I'm very sorry to say so, but) it is not that important that it costs a bit more than the next guy's project."
Suddenly we weren't that bold anymore, unable to pepper the conversation with our sharp questions. They didn't want to join us dividing the pies. Frustrated, we left the battle field, convinced that everything would have gone completely differently if Michelle hadn't been there. Rightfully so, our colleagues rubbed in our failure: why didn't we use our power as journalists and kept questioning? We still owe them an answer. We aren't those bold journalists yet. Not by a long shot.