Letzte Woche interviewten wir eine britische Lady, die sich innerhalb von fünf Jahren von einer jungen, blonden Ehrenamtlichen zu einer Hausmutter einer Mini-Jugendherberge, die einer von Südafrikas größten Ehrenamtlichen-Organisationen gehört, verwandelt hat. Obwohl sie selbst gerade mal 30 Jahre alt ist, hat sie "ihre Mädchen" mit einer mütterlichen Art im Blick. Die erwähnten Mädchen sind ihre ehrenamtlichen Mitarbeiter, aber zur gleichen Zeit auch unsere Befragten und kommen von drei verschiedenen Übersee-Kontinenten. Beim Interview wollten wir genaueres über ihre Arbeit erfahren. Aber Mami, die für die Muttergesellschaft arbeitet, blieb am Tisch mit ihrem wachsamen Blick und ruinierte das Interview. Es muss sich um Mutterliebe gehandelt haben, jedoch mit Selbstgefälligkeit und dem Drang zu beschützen. So blieben all die interessanten Entdeckungen, auf die wir hofften, unausgesprochen. "Wir versuchen ein Zuhause abseits von Zuhause zu errichten.", sagte die Ehrenamtlichen-Mutter. Ihre Kinder nickten einstimmig.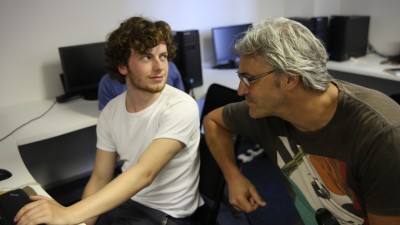 Ein Zuhause abseits von Zuhause. Einer meiner Projektteilnehmer bedacht die Idee mit Spott: "Puh, wenn die Organisation sich um jedes unserer Bedürfnisse kümmert, wie viel Abenteuer bleibt dann noch dabei, auf der anderen Seite der Welt zu sein? Wäre es dann nicht einfacher, im eigenen Land ehrenamtlich zu arbeiten?" Ist es nicht das Ziel, bis ans Ende der Welt zu reisen um von Zuhause weg zu kommen? Um frei zu sein? Um seinen eigenen Weg zu gehen! Um dich selbst kennen zu lernen! Und ist das nicht das komplette Gegenteil von der Idee, irgendwo anders ein neues Zuhause zu finden?
Ein Zuhause abseits von Zuhause. Seltsam genug, ist es eine Situation in der sich nicht nur unsere Interviewpartner befinden. Es zählt für uns genauso. Nolens volens – willig oder widerwillig? Unser Hostel in Observatory, Kapstadt – "The Green Elephant" – ist unser Zuhause weit weg von Zuhause geworden. Ein gemütlicher Platz mit einigem Angebot. Das Schaukeln des Schaukelstuhls klingt überzeugend und es ist sehr angenehm, dass wir eine Bar haben, wo der freundliche Barkeeper örtlich hergestelltes Bier serviert.
Eine Woche lang bist du hier, und dir wird klar, dass du den Kochplatz täglich beschlagnahmst um für 15 Leute zu kochen, jede Biersorte probiert hast, jeden in dem kleinen, wie ein Cockpit aussehenden, Büro kennst, der dich hinein lässt sobald du an der Außentür läutest. Du bist mit allen Barkeepern befreundet, hast herausgefunden wo das WLAN am besten funktioniert und kennst alle anderen beim Vornamen. Dann weißt du, dass du das Zuhause weit weg von Zuhause gefunden hast. Ja, das fühlt sich gut an.
Die Menschheit ist beides, mondän und flexibel. Und wenn du nach einem langen, harten Arbeitstag auf den Feldern der Kapstadt-Ehrenamtlichenindustrie mit einem kalten Bier da sitzt, dann akzeptierst du diesen Fakt nicht nur, du weißt ihn sogar zu würdigen. Der mondäne Mensch passt sich der Situation an. In diesem Video wird klar, wie. Würdest du gerne in einer Schule helfen, aber dort Fachwissen vermissen? Es gibt genug andere Dinge zu tun, die wichtig sind. Zum Beispiel Bücher einzubinden.
Home away from home
Last week we interviewed a British lady who transformed herself within five years from a young blonde volunteer into a house mom of the minihostel that belongs to one of South Africa's larger volunteer companies. Although she is barely 30 years old herself, she oversaw 'her girls' with a motherly air. The girls we are mentioning here were her volunteers, but at the same time they were our interview targets. The girls arrived from three different continents overseas. By interviewing them, we wanted to know specifics about the business. But mummy, working for the mother holding, remained at the table, and with her watchful eye, she destroyed our interview. It must have been the love of a mother, but impregnated with a smug air and need to protect. So all the exciting finds we were aiming for remained unspoken. "We are trying to create a home away from home here" said the volunteer mom. The volunteers nodded in unison.
A home away from home. One of my fellow project participants regarded the idea with scorn: "Whew, if the volunteer company takes care of every single one of our needs, how much of an adventure is staying at the other side of the world that way? Wouldn't it be easier to volunteer at home this way?" Is it not the aim to travle to the end of the world to be away from home? To be free? To go your own way! To get to know yourself! And isn't that diametrically opposed to the idea of simply finding a new home elsewhere?
A home away from home. Funnily enough, it isn't something that only our interview targets have ended up with. It counts for us as well. Nolens volens? Our hostel in Observatory, Cape Town – The Green Elephant – has become our home away from home. A cozy spot with a high concentration of facilities. The swinging of the swinging chair is convincing, and it is very convenient that we have a bar, where a friendly bartender serves local craft beer.
A week in, you realise that you've confiscated the kitchen space while cooking for 15 people on a daily base, tried every type of beer, got to know everyone in the little cockpit shaped office who buzzes you in when you ring the doorbell, have become friends with all the bartenders, have figured out where the WIFI signal works best, and know the other guests on a first name basis. And thats when you figure out that you've found a 'home away from home'. And boy, does it feel good.
Mankind is both mundane and flexible. With a cold one after a long day out in the fields of the Capetonian volunteer industry you don't just accept that fact, but you appreciate it. Mundane man adjusts to the situation. In this video it becomes clear how. Would you want to volunteer in a school, but miss the expertise? There are many things you can do that are still valuable. Like covering books, for example.